---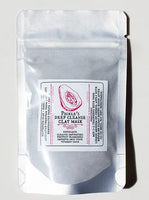 Pickle's Potions and Lotions

 

- Winthrop, Maine
https://www.picklespotions.net/
Facial Clay Mask - Deep Cleanse:  Bentonite clay, kaolin clay, activated charcoal (from coconuts), papaya and guava (dehydrated).
Simply mix 1-2 teaspoons of the dry clay mask with your liquid medium of choice. Some favorite options are tea, yogurt, juice, honey, milk, hydrosols, or plainwater.

There are many benefits of using clay masks on our skin, including adding minerals and nutrients, absorbing oil and dirt, and tightening our pores. Different clays offer different benefits, so you should choose a mask blend that will benefit your specific needs.

Kaolin clay: a gentle white clay that can exfoliate your skin while removing impurities, without stripping or damaging your skin. 

Bentonite clay: an anti-inflammatory clay that can help with blemishes and pore size.

Activated charcoal: deep cleans pores.
Papaya: a wonderful exfoliator, because of the enzyme papain, vitamin A, and alpha hydroxy acids that are found in the fruit. It can help clear pores and improve skin tone. 

Guava: rich in vitamins A, B, and C. Helps to fight signs of premature aging. 
Product Care
This item is not meant to replace the word of a doctor. Please consult a doctor before using on severe problem areas. Pregnant or nursing women should consult their doctor before using products with essential oils.

Store in a cool, dry place. Once moistened use within one day.
There are no artificial fillers or binders or preservatives in this product.
The statements on Kristin's potions have not been evaluated by the FDA. These potions are not intended to diagnose, treat, cure, or prevent any disease. If you have skin sensitivities and/or allergies, please read the ingredients listed prior to purchasing. Each individual is responsible for doing a 24-hour patch test (on your neck underneath your hairline and/or on the inside of your elbow) before usage. Please consult your physician before using any products with essential oils if you are pregnant, nursing, using on a child under the age of 12, have high blood pressure, low blood pressure, cancer, epilepsy, diabetes, glaucoma, kidney disease, cardiac disease, liver disease, or acute respiratory disease. Do not ever take essential oils internally. Pickle's Potions is not responsible for allergic reactions, issues derived from use of products not described in application directions, or neglect to contact a physician prior to usage.