---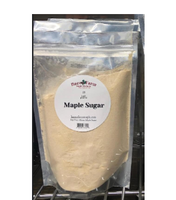 Pure Maple Sugar - 8 oz. Bag       NUTRITIONAL FACTS LINK!

Maple sugar contains low amounts of fructose, which gives it a lower glycemic index than white and brown sugars.
Contrary to it's name, this sugar doesn't have a strong maple flavor and can be used in recipes the same as cane sugar is used.  Can be used to sweeten drinks like coffee or tea, top oatmeal or incorporated into a flavorful rub for meats.  In baking it acts just like regular granulated sugar and can be creamed with butter for cookies and cakes.
Bacon Farm Maple Products - Local