---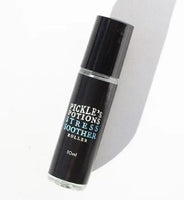 Pickle's Potions and Lotions

- Winthrop, Maine
https://www.picklespotions.net/
- Stress Soother - 10 ml Glass Roller.  Local
Choose 'Stress Soother' to calm and relax your anxious, restless or unsettled nerves. 

With the Stress blend, roll it on your feet, neck, and wrists. The idea is to use less oil, but apply it more often. Contains pure fractionated coconut oil, lavender, bergamot, frankincense, and ylang-ylang. 

Product Care  Please use within 6 months of opening and store away from heat sources.  There are no artificial fillers or binders or preservatives in this product.
DISCLAIMER:  The statements on these potions have not been evaluated by the FDA. These potions are not intended to diagnose, treat, cure, or prevent any disease. If you have skin sensitivities and/or allergies, please read the ingredients listed prior to purchasing. Each individual is responsible for doing a 24-hour patch test (on your neck underneath your hairline and/or on the inside of your elbow) before usage. Please consult your physician before using any products with essential oils if you are pregnant, nursing, using on a child under the age of 12, have high blood pressure, low blood pressure, cancer, epilepsy, diabetes, glaucoma, kidney disease, cardiac disease, liver disease, or acute respiratory disease. Do not ever take essential oils internally. Pickle's Potions is not responsible for allergic reactions, issues derived from use of products not described in application directions, or neglect to contact a physician prior to usage.